Image by Amanda Oliveira

InnerSelf's Daily Inspiration
presented by Marie T. Russell, InnerSelf.com

January 21, 2023

The focus for today's inspiration is:

Simplicity is... being connected to nature.
Simplicity is a key to spiritual growth. Gandhi understood the secret of simplicity. The Shakers sang, "Tis a gift to be simple, tis a gift to be free. Tis a gift to come down where we ought to be."

Simplicity is being directly connected to nature. Recent research is finally proving what we've intuitively know all along.

In one study by cognitive psychologist, David Strayer, twenty-two psychology students scored 50 percent higher on creative problem-solving tasks after three days of wilderness backpacking. Doctors around the world are calling it "The Nature Cure."

CONTINUE READING:
Today's inspiration was excerpted from the InnerSelf.com article:
My Experiment in Forced Simplicity
Written by Barry Vissell
Read the complete article here.


This is Marie T. Russell, publisher of InnerSelf.com, wishing you a day of being connected to nature (today and every day)

Subscribe here to join me for the next installment of "InnerSelf's Daily Inspiration".

The focus for today: Simplicity is... being connected to nature.

* * * * *
RECOMMENDED BOOK: The Heart's Wisdom
T
he Heart's Wisdom: A Practical Guide to Growing Through Love
by Joyce Vissell and Barry Vissell.
In this text, Joyce and Barry Vissell offer a practical guide to growing emotionally and spiritually through relationships told from both sides of the relationship dynamic.
Click here for more info and/or to order this book
About the Author(s)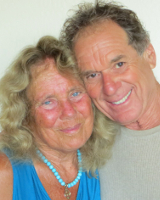 Joyce & Barry Vissell, a nurse/therapist and psychiatrist couple since 1964, are counselors, near Santa Cruz CA, who are passionate about conscious relationship and personal-spiritual growth. They are the authors of 9 books and a new free audio album of sacred songs and chants. Call 831-684-2130 for further information on counseling sessions by phone, on-line, or in person, their books, recordings or their schedule of talks and workshops.